El Perezoso is a secret paradise, a special place surrounded by beauty in its simplicity and complexity.
Tucked away in Playa Tortuga on the Southern Pacific coast where the mountains meet the sea, this is an area of Costa Rica that remains undiscovered by tourists. It has an inbuilt tranquility and is perhaps aptly named El Perezoso, The Lazy One.

Playa Tortuga is situated in the Osa region in what is known as the Southern Zone of Costa Rica, 9 degrees north of the equator and is essentially tropical rainforest. Our situation close to the ocean and 100 metres above sea level, in the foothills of the Fila Margarita Mountains, ensures a comfortable circulation of fresh breeze in from the Pacific by day, and down from the mountains by night.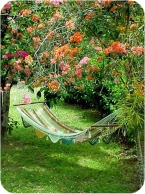 El Perezoso and Playa Tortuga have it all! Amazing scenery, pristine un-spoilt beaches, beautiful waterfalls and rivers and an incredible diversity of plants, birds and animals, all bathed in tropical sunshine.
We have all the ingredients you need to make a holiday of a lifetime and you can chose how energetic or lazy you want to be!